A Non-Profit Religious and Educational Foundation Incorporated August 2nd, 1967, CE

The historic mission of this foundation is to salvage, transform and re-activate the timeless Initiatic Code
of Planet Earth, as enshrined in the Grand Scaramental Societies of ancient times,
for the New Precessional Year of The Divine Maiden.
---

Feraferia means Wilderness Sacrament. Feraferia is a Paradisal Fellowship for the loving celebration of Wilderness Mysteries with Faerie style, courtly elegance, refinement and grace. The Great Work of Feraferia is the lyrical unification of Ecology, Artistry, Mythology and Liturgy. In such Love-Play-Work may Women and Men achieve reunion with Great Nature, each other, and their own Souls, before and after the Transition we call "Death". The Feraferian vision includes new inspirations and new combinations from the most ancient wellsprings of The Goddess and Her Queendom of the Gods, our Supreme Guarantors of Eternity for The Unique as well as The Universal. Innovations there are, but always in continuity with those ancient, Archeonic Sources. The New Mysteries must accommodate all crucial developments in Human knowledge and awareness that have occurred since the Old Paganism was overwhelmed and all but destroyed. For inspiration we apply ourselves to Aphrodite Ourania. Testing emerging patterns against a viable yardsticks of Human value and learning will necessarily be a cooperative and long-drawn-out process. Wilderness is the Supreme Value of Religion and Life! Feraferia offers, perhaps for the first time in known history, a Poetic Liturgy and Altruistic Theurgy of Holy Wilderness.



FERAFERIA OFFERS:

* Thealogy
* Aphrodisian Aether Magic
* Instruction in Ritual Magic for Ourathonia: Sky and Earth Energy Fusion
* Geomancy and Sacred Geometry
* Temple and Landscape Integration: Kore Henges, Ley Lines,
Dragon Paths, and Geomantic Corridors
* Landscape Magic and Soul Making
* Eco-Psychic Rituals and Calendar
* Psycho-Cosmic Tuning Systems
* Seasonal Festivals


---
FERAFERIA MAIN MENU:
FERAFERIA SEASONAL FESTIVALS
In the Temple of Persephone and Aphrodite, Feraferia presents the Eight Seasonal Festivals of Quarters and Cross-Quarters plus a ninth for Cosmos. An Introduction.


FERAFERIA ESSAYS
A Selection of Feraferia essays written by Fred McLaren Adams and Lady Svetlana of Feraferia.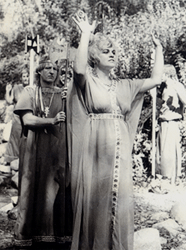 IMAGES OF FERAFERIA
A series of nine big images. Some fine examples of Fred McLaren's wonderful artwork.


FERAFERIA NEWS
What's new at Feraferia. To keep you updated and make contact if you wish.


FERAFERIA'S FAVOURITE LINKS
THE FERAFERIA BOOKLETS
Feraferia's publications. This link leads to Phaedrus' website, where you will find the Feraferia titles in the list.



EVOE KORE!

---